Photographs of Burnsall in Wharfedale
Burnsall is an attractive stone-built village with a couple of churches, a village hall, bed and breakfast establishments plus holiday cottages to rent. The Dales Way footpath skirts the River Wharfe as it passes the village. There are pleasant pubs along the main road and numerous walks in all directions through rising scenery and along the River Wharfe.
The main road, the B6160 winds its way through the village of Burnsall.
There are riverside cafes and plenty of places to eat and drink when on holiday in Burnsall.
A great effort is made to present Burnsall as pretty as a picture with attractive gardens and floral displays in hanging baskets.
Special offer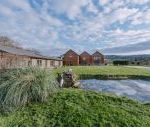 Was 1 GBP, Special Price 1 GBP
See the Offer Details including available dates