Riverside walks at Bolton Abbey
The River Wharfe flows briskly through the lovely grounds of Bolton Abbey. The river is shallow in most parts although there are deeper sections and indeed dangerous sections such as the Strid where the water is forced through a narrow gorge.
Visitors are welcome to walk their dogs on lead although they are often allowed the freedom of the countryside and like to go into the river.
The river can be shallow enough to paddle in. There are always ducks and gulls on the river. The river banks are a haven of multi-coloured wild flowers in the spring.
People enjoy spending time by the water in between walks; sun bathing, bird watching, fishing or picnics.
Special offer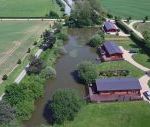 Was 610 GBP, Reduced to 550 GBP
Read more about availability